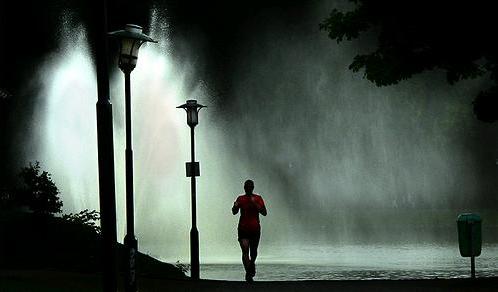 This morning, I went for a jog and got caught in a torrential downpour. One minute, it was bright and sunny, and then the next thing I know, I'm singing jogging in the rain. I was already a couple of miles from home, I figured I'd be drenched no matter what, so I decided to just finish my route before heading back.
It. Was. Awesome! I felt so carefree, splashing my way through the puddles. I have to admit, I wasn't too happy at first, but I ended up really enjoying myself. All my stress seemed to trickle away with the rain, and I ended up running faster than ever. It wasn't my ideal situation, but I certainly made the best of it. Amazingly enough, by the time I got back home, the sun was shining again!
Jogging helps me clear my head and de-stress. This morning's jog had me thinking how, in life, we encounter many storms. Sometimes, they seem to come out of nowhere, with absolutely no warning at all, shocking you with their intensity. There's no time to prepare. Waiting for the storm to pass isn't always an option. Sometimes we have to run right through it. It's not easy, but it's an essential part of life. We can use that rain to become stronger, let it help us grow. It may seem never ending, but eventually the sun has to come out again. When it does, we'll appreciate it even more than we did before. Until then, we should do what we can to make the best of it.